What does client satisfaction have to do with inspections? According to Inc.com, after a positive customer experience, 42% of your clients will use your services again. On the other hand, a negative customer experience could mean your chances of losing that client, go up 91%.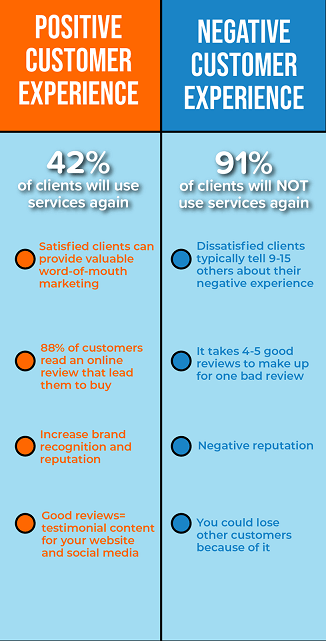 CleanTelligent was recently recognized by Gartner Digital Market on their newly released Category Leaders Report for Inspection Software and received badges from accredited sources like Get App, Capterra, and Software Advice. This all thanks to reviews from our customers who are actively using our software to help improve quality assurance and build their business everyday. What we've discovered is the secret to increased client retention, overall job satisfaction and business growth, has a lot to do with the frequency of your inspections. The first major benefit to more inspections, is the positive impact it will have on your customer retention rate.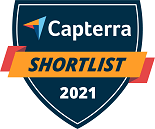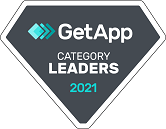 The Importance of Cleaning
No matter how big or small the job may be, your client will remember and note everything you miss. They are trusting your team to do the job they've paid you for, therefore it's optimal to understand the gravity behind cleaning inspections, and better yet, routine inspections.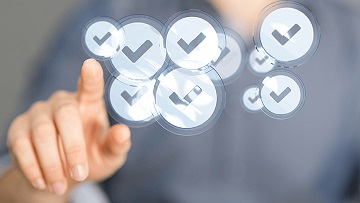 So, what is the importance of providing inspection to maintain cleanliness in the workplace?
According to our research, the more you inspect your cleaning process, the more you can eliminate errors and shortcomings on the job, thus helping your team improve their quality of work.
Show your team transparency with real-time data and job reporting. CleanTelligent's inspection software helps you communicate inspection results by giving your team the ability to add photos and notes to any rated task in real-time, establish a trackable cleaning history, automatically create work orders from deficient scores and much more. Read about additional tools and capabilities.
Up-to-Date Janitorial Inspection Checklist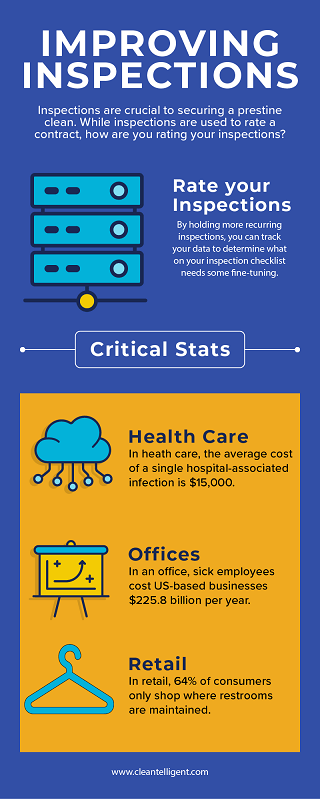 Your janitorial inspection checklist is what gives your team an idea on what they are excelling at and what needs work. This data is crucial when evaluating jobs your team can handle and the speed at which your business can grow.
We've pulled some data from our Three Keys to Improving your Janitorial Inspections blog.
As you can see, it's expensive to skip routine inspections. Not to mention, more frequent inspections can help you fine-tune your inspection checklist to a system that works best for you and your clients.
Cleaning Inspector Advantages
A cleaning inspector is an all encompassing role that takes on duties such as conducting the cleaning inspections, preparing work orders, overseeing daily operations and making sure your standard of clean is met.
This person is crucial in maintaining a good relationship with your clients and team members. Not only will your quality of clean improve by making sure your team leaves no stone unturned, but this person will help strike personal relationships with your clients on site. The more you have routine inspections, the more familiar their face will become. Learn more about how to set up your inspectors for success.
Increase Efficiency
Inspection rating scales can be the clarity your team needs when learning on the job. While every contract has similar bones, every property is different. Give your team a bottom line to compare their work to by implementing a rating system that they can fall back on.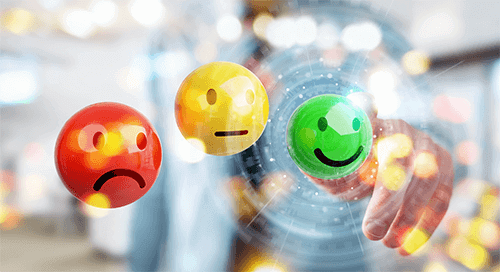 Rating systems can include pass or fail performance grades. Clients gravitate towards the simplicity of this because they are immediately reassured those failing areas of a job will be fixed. Another rating system you might consider is a 1-10 Janitorial Service Rating Scale. This scale offers more detailed notes for team members and clients to make. Not to mention, gives you a better idea of what most clients are expecting to see to consider it a job well done. Click here for more ratings scale ideas.
Fast Track to Improvement
After you've determined your focus on improving frequency and/or quality of your janitorial inspections, it's important you get the jump on this to start seeing active changes on your jobs as soon as tomorrow.
To help get you started, download our e-book that will walk you through the ins and outs of establishing a solid janitorial program.
As always, feel free to share this article on social media with the icons below. and even reach out to us when there are more questions about a solid inspection process.