Professional cleaners work to create clean, safe and consistent environments. If you are trying to figure out how and why you should thank a cleaner, here are some things you can start doing today.
Although we typically write for cleaning business owners, managers, supervisors and cleaners, today's article is also for the general public.
The jan/san industry is full of hard-working men and women that are dedicated to making the world a healthier and safer place.
Here are 5 ways you can show appreciation to your cleaning staff
Learn Your Cleaner's Name: How often have you seen or heard the phrase, "I was taught to treat the janitor with the same respect as the CEO?" We believe that the first way people show respect for a CEO is to learn his or her name. Why, then, would showing respect to a cleaner be any different?

Once you learn someone's name, you open up a lot of possibilities. Knowing a cleaner's name can help you learn about the cleaner's abilities, achievements and dreams. It also makes your thank-yous more personal and specific.

Clean Up After Yourself: Like your mom, professional cleaners create clean and safe environments by performing tasks that many take for granted. When you clean up after yourself, not only do you show respect for the cleaner's time, but you help the cleaner help you.

When you clean up after yourself, cleaners can focus their time on killing and removing surface germs. This means, as we enter flu and cold season, you will have fewer opportunities to get sick, making you a healthier and more productive employee. Who knows, you might just get a raise!

Say Thank You: Before we dive into this idea, please step back and think about what happens when someone thanks you for a job well done at work, home or another setting. Gratitude has a way of sticking with you, making your day.

Whether you notice a cleaner in passing or you directly benefit from a cleaner's regular efforts in your office, please express your gratitude for the cleaner's efforts. A quick, verbal thank-you in passing or a handwritten thank-you note are simple to do and can make a huge impact.

Gift Giving: If you know a janitor or custodian that has gone above and beyond the call of duty, you may want to show your appreciation with a little more than a verbal or written thank-you. While selecting an appropriate gift, take time to explore your creativity and budget.

Gift items can range from the traditional candy, flowers and gift cards to a thank-you basket. But truthfully, don't let our range of ideas limit your creativity! Recently, there have been stories in the news of custodians receiving cars from their communities.

Write a Thank You Note: There is a warm feeling that is associated with receiving a meaningful, handwritten thank you note. If you want to go the extra mile to show your gratitude, a simple thank you note will do the trick.

In this note, you can mention how you appreciate their hard work, positive attitude, or anything else that you admire about them. Also mention a specific task or job they accomplished recently that deserves recognition. This will set the tone in creating a positive work place environment.
Bonus Tip: In case you didn't know, the janitorial/sanitation industry celebrates the following holidays each year: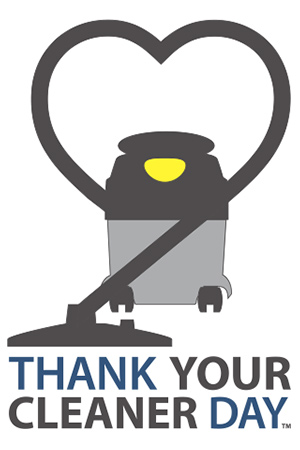 We hope that you will celebrate these holidays with us. Why? Because it is our opportunity to share our dedication and passion for clean and healthy facilities.
Let's look at the benefits of a regularly cleaned and maintained school, for example: As school custodians work to reduce the number of allergens and germs on every surface in a classroom, students are healthy enough to attend class and focus on their studies.
With higher attendance rates and an improved classroom focus, students' grades improve. In time, these students will grow up and contribute back to society by creating stronger communities. So, whether you find yourself in a hospital, office or public transportation hub, the cleaners in these facilities are working to protect you.
Please share this article and help us get the word out about what cleaners do for the communities they serve. But also, think about how you might join in future celebrations. It doesn't need to be big; just look for a way to recognize and serve your local cleaners.
Show your appreciation today! Download special #HeroesOfClean thank you cards made specifically for cleaners HERE.