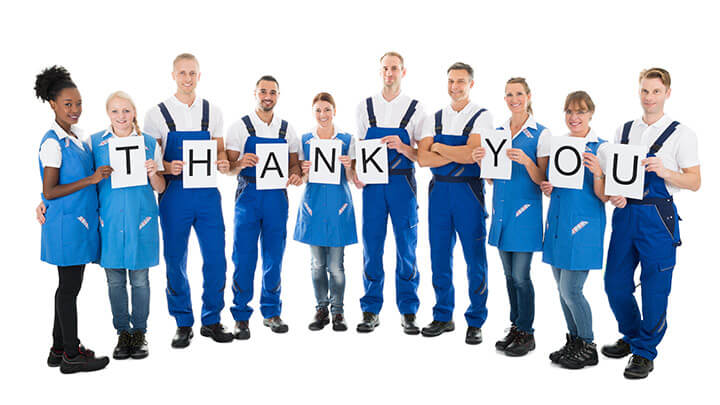 Thank Your Cleaner Day is a day where both the janitorial industry and the general public recognize cleaners for everything they do to protect the community's health.
Normally, our blog is written to help janitorial managers, cleaning business owners, and supervisors simplify their work. However, on Thank Your Cleaner Day we write to the general public.
In case you didn't know, Thank Your Cleaner Day was first celebrated in New Zealand in 2015 as a way to thank the people that keep our community's working and living environments clean. Fast-forwarding five years, this holiday is celebrated all over the world.
In 2020, the COVID-19 pandemic has made it apparent that heroes of clean are critical to disease control and prevention. For these heroic efforts our team would like to say thank you:
Although there are countless ways to appreciate cleaning staff, you must learn where to find these individuals.
To help you through this process, we would like to introduce you to 2020's #HeroesOfClean contest winners. The following professional cleaners work in different types of facilities and were nominated by their peers for going above and beyond to protect the public's health.
Health Care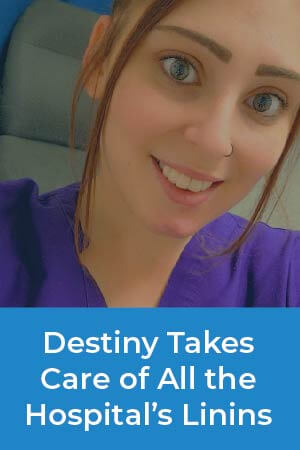 Meet Destiny—she works at Wilson N. Jones Regional Medical Center, a hospital in Sherman, TX. In her nomination, her supervisor described her as the "backbone of the department," explaining that Destiny works in the COVID-19 unit, manages the entire hospital's linen needs, and routinely accepts additional responsibilities.
Overall, the health care industry depends on clean and hygienic hospitals. It could mean the difference between life and death for the facility's employees, patients, and visitors. Additionally, a sanitized and disinfected hospital reduces the chance that a patient could pick up a second infection during their hospital stay.
For a patient, it is hard to put a value on that kind of safety and assurance. However, in addition to protecting lives, hospital cleaning protocols protect the facility financially. If a patient picks up a hospital-associated infection, the average cost of the patient's care is $15,000.
Transportation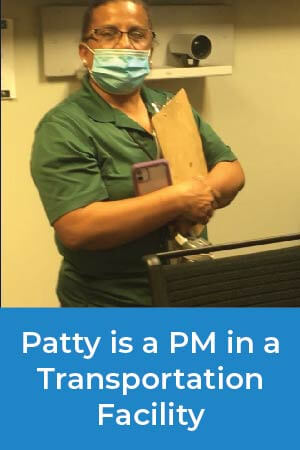 Patty is the PM for the Phoenix Light Rail janitorial crews. She goes above and beyond to ensure that cleaners have the tools, supplies, and training they need to be successful. Additionally, she is a pleasure to work with because of her work ethic, listening ear, joyful heart, and smile.
In a transportation hub (airport, train station, bus terminal, or subway) cleaners realize that their work is a traveler's first impression of the city. This impacts the area's ability to recruit new businesses and grow tourism. In light of the COVID-19 pandemic, transportation hubs are another important point in disease control and prevention between states, regions, and countries.
In addition to the appearance of clean, the janitorial teams in these facilities work hard to reduce the number of germs on every surface and object they can. Why? Because even if the traveler is wearing gloves, every surface they touch, travelers will pick up germs from the last person. Which is why sanitation is a never-ending job.
Education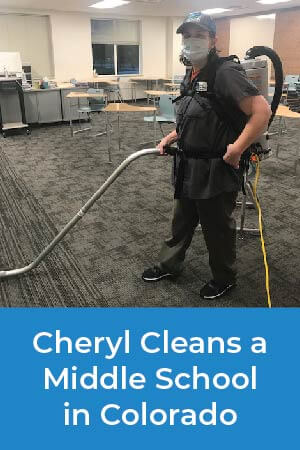 Cheryl cleans CEC Windsor Middle School in Colorado. Her co-workers recognize that she genuinely cares about the faculty and the students attending the school. Cheryl applies that care to every high-touch point she cleanings in the cafeteria, faculty lounge, and the restrooms.
But in general, what is the value of a clean school? Although it is hard to define a return-on-investment to the community, it's proven that there is a direct correlation between clean classrooms and student attendance. As students spend more time at school, they absorb more content from the teacher, which drives students to score better on exams.
Additional research shows that consistently cleaned classrooms provide students with a controlled learning environment—which also bumps student performance. As you would expect, these results directly play into a school's graduation rate.
Janitorial Contractors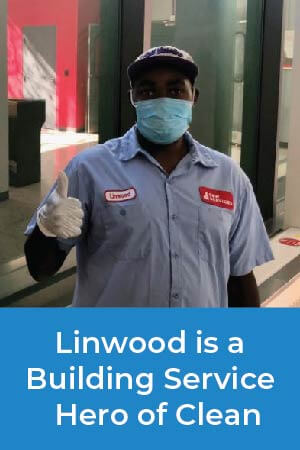 Linwood is a building service contractor, which means he cleans a variety of facilities. Linwood demonstrates his dedication to the community by making recommendations to improve the facility's overall cleanliness. Additionally, his positive attitude and willingness to work flexible hours have helped his team tremendously.
Contracted janitorial teams turn the places you work, dine, shop, and play, into safe environments. How do they accomplish this? First, cleaners remove the surface dirt and grime that building patrons have tracked into the facility. Next, these heroes of clean battle surface germs, like the novel coronavirus, by sanitizing or disinfecting the surface.
The bottom line—janitorial heroes of clean know how to maintain facilities to drive specific results. For example, in a hospital, cleaners work to protect patients and reduce health care costs. Likewise, a transportation hub is maintained to stimulate economic growth.
As you visit public facilities—look for the heroes of clean while they are in action. Properly thanking a cleaner only takes a second. All you have to do is introduce yourself, learn the cleaner's name, and express gratitude for their hard work. It's a simple gesture that will make your cleaners day.
Help the jan/san industry's heroes of clean keep facilities healthy by using mobile surveys to report cleanliness issues.